Food influencing has become a new age thing, with some doing it for passion, while others transforming it to be a full-time profession. No matter which food type is your favorite, you will find restaurants that will make you want to have more! But the modern generation of Udaipur food lovers do not just want to visit any restaurant, they want the best for their outings. Here is the list of some food bloggers in Udaipur that you must follow.
1. Maa_bhukh_lagi_hai
Bringing you the best of taste from his kitchen. His food diaries specifically highlight the essence of Indian cuisine, and witty Hindi captions spreading its aroma across the world. It has 21.6k followers and the best food feed you are looking for Udaipur.
Instagram Page: https://www.instagram.com/maa_bhukh_lagi_hai/
2. Udaipurfoodie
An avid photographer and food blogger in Udaipur who captures foodstuff across restaurants in Udaipur with more stories and impressive pictures adding more eyes to it. It is also a platform for other foodies in Udaipur to share the same love for food. It has 18k followers right now.
Instagram Page: https://www.instagram.com/udaipurfoodie/
3. Drfoodie3
If you're in Udaipur and wondering what to eat, check out drfoodie3 on Instagram. The blog follows this amazing food journey across the city and love for food. It has 7191 followers at present.
Instagram Page: https://www.instagram.com/drfoodie3/
4. Foodotraveller
foodotraveller is another destination for pure-vegetarians looking for a place to find mouth-watering and healthy recipes. They also do food blogging in the city of Pune and Banglore. They have 9619 followers.
Instagram Page: https://www.instagram.com/foodotraveller/
5. Spoonnsnap
If your eyes gleam seeing the perfect food shots, delicately styled and captured in theme, then you must head to this passion project which goes by the name 'spoonnsnap'. spoonnsnap brings to us the finest delicacies our lake city has to offer.
Instagram Page: https://www.instagram.com/spoonnsnap/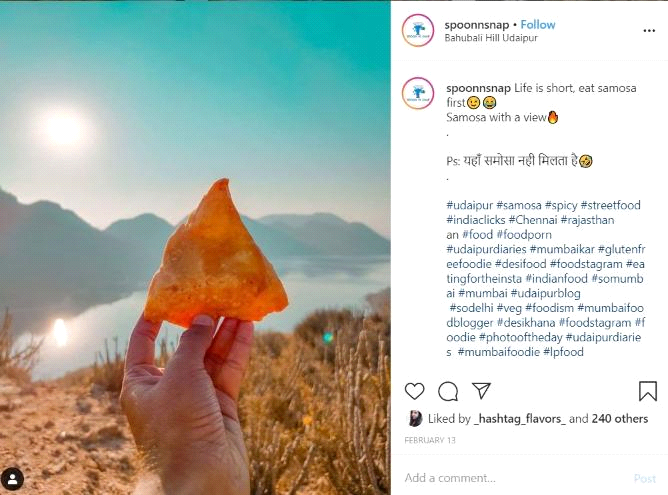 Udaipur Web Designer is one of the leading web design company in Udaipur. We provide the best solution to all inquiries of clients related to Web Designing, digital marketing, and Application Development.